Romania Combo
Day 1
| Bucharest
TODAY´S HIGHLIGHTS: Transfer to the hotel. City tour of Bucharest. Dinner included. Welcome to Bucharest.

On arrival at the airport, we will be waiting for you to transfer you to the hotel. Towards 13.00 hrs, after lunch, we will take a panoramic tour of the city with its ancient quarter and the giant Parliament Palace.

Leisure time followed by dinner.




 
TODAY'S HIGHLIGHT: Dracula's Castle. Transylvania region. Special dinner in Sighisoara. 

Today we have a journey with great scenic beauty, travelling to Transylvania across the Carpathian Mountains and through forests. In SINAIA, we will stroll through the gardens of the Peles and Pelisor Castles before going on to the 14th-century BRAN fortress, commonly known as Dracula's Castle (tickets included).

Time for lunch, before continuing to SIGHISOARA, a very beautiful walled medieval city and Heritage of Mankind.

In the evening we will enjoy a very special dinner, in the restaurant of Count Dracula, at the house where Vlad Tepes was born.
TODAY'S HIGHLIGHT: varied landscapes, small picturesque villages en route.  

In Transylvania there are numerous fortified churches in areas that were inhabited by people of German origin; some of these churches have been declared Heritage of Mankind, and we will see one of them, BIERTAN (tickets included).

After this, we continue to SIBIU, an important economic and cultural centre, previously the capital of Transylvania, with its bustling narrow streets and squares.

Time for a stroll and take lunch. In the afternoon, we visit the impressive Castle of HUNEDOARA (tickets included), which is considered the prettiest castle in Romania.

We continue to TIMISOARA, with time to explore its elegant central squares.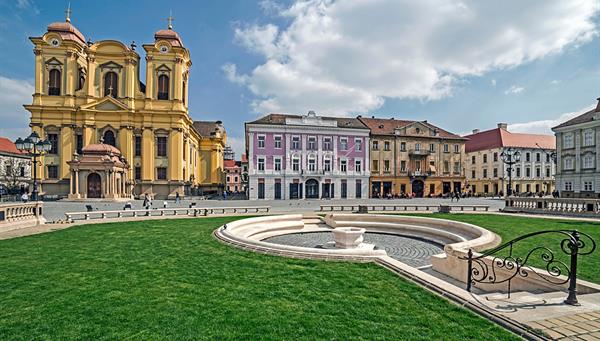 TODAY'S HIGHLIGHT: Panoramic tour of Belgrade. We set off for SERBIA and the border pass.

After a few hours travelling, we will arrive to BELGRADE. Here you can enjoy a panoramic tour of this active capital on the shores of the Danube as it flows into the Sava.

We get the chance to admire its busy centre, its parliament, and stroll in the Kalemegdan Fortress. Afternoon at leisure.
TODAY'S HIGHLIGHT: Panoramic tour of Sarajevo. Tunnel of Hope. Dinner included. 

Enjoy the journey of pretty forests and mountain scenery. We arrive to BOSNIA, SARAJEVO, at lunchtime.

With a local guide, we will take a panoramic tour of this city with strong Turkish influence: its Mosques, its Madrasahs, and its busy bazaars.

We will also see the Tunnel of Hope that saved the city during the Serbian siege.

Dinner included. Note: Depending on the arrival time, the Tunnel of Hope can also be visited on Friday before leaving for Mostar.
TODAY'S HIGHLIGHT: Beautiful landscapes throughout the stage: mountains, rivers, waterfalls, lakes, picturesque villages en route.
Dinner included. Another exciting drive of scenic beauty. Amidst deep valleys, we travel to MOSTAR, with its very beautiful historic centre and Stonebridge separating the Orthodox, Muslim and Catholic communities.

After lunch, we stop in MEDJUGORJE, a place that attracts thousands of Catholic Pilgrims.

We then travel to KRAVICE, we stop at its magnificent waterfalls before continuing to CROATIA. Border procedures (which may be long).

We will then arrive into DUBROVNIK at the end of the day.

Accommodation in Cavtat, a coastal point close to the city. Dinner included.

Note: From the end of October to the end of March it is not possible to visit the kravice waterfalls.
TODAY'S HIGHLIGHT: Panoramic tour of Dubrovnik. Cable car ride. Dinner included.  

In the morning we enjoy a panoramic tour of DUBROVNIK with a local guide.

We are undoubtedly in one of the most beautiful cities in Europe, surrounded by walls, bathed by the Adriatic Sea; its intact historic centre is a jewel of world architectural heritage.

The tour includes tickets to the Franciscan Monastery with the oldest pharmacy in Europe, and the Cathedral.

We also take the cable car to give us a fantastic view of the city and the neighbouring islands.

You can then enjoy free time, returning to the hotel at the end of the afternoon. Dinner included.

Note: Accommodation in Dubrovnik will be in Cavtat, a coastal town near the city.
TODAY'S HIGHLIGHT: Visit of Split. Dinner included.

We set off in the morning, travelling along the Croatian coastline which displays amazing seascapes and islands. We will arrive in SPLIT at noon.

We include a visit with a local guide and entry into the Diocletian's Palace.

We will tour this immense palace from the Roman period, its labyrinth of streets, and its sea vistas.

Towards the end of the day we will travel to TROGIR where we will stay for the night.

Before heading to the hotel, we will go around what is one of the most charming towns on the Dalmatian Coast. Dinner included.
TODAY'S HIGHLIGHT: Plitvice lakes National Park. Dinner included. 

We will travel to the interior region of Croatia, going through beautiful hilly landscapes to finally arrive in PLITVICE LAKES NATIONAL PARK, which has been added to the UNESCO World Heritage List.

We will enter the park where you can admire the park's lakes and waterfalls.

Take the opportunity to walk along the trails or take a boat and sail through the waters of the lakes.

After lunch, we will travel back to the coast towards the north of Croatia. Upon reaching OPATIJA, take your dinner included and stroll in this resort town which offers charming night life.

Note: In exceptional circumstances, either due to weather conditions or high numbers of tourists, it may not be possible or advisable to use the train or boat in Plitvice.
TODAY'S HIGHLIGHT: Postojna cave, Boat trip, Tour of Ljubljana. Dinner included. 

Today we will travel to Slovenia. We will visit POSTOJNA Cave, one of the world's biggest caves which is partially toured by train.

After this, we will travel to BLED, a stunning postcard town on the shore of a lake, and in the middle of the lake, there is an island where the bell tower of a monastery stands at the foot of a medieval castle.

We take a boat trip around Bled's lake and a visit the monastery on the island.

We continue our trip to Slovenia's Capital, LJUBLJANA. Here we will take a tour with a local guide and learn about this beautiful Central European city.

Dinner included. Note: During the winter, to be able to visit Ljubljana during the daylight hours, this may take place before departure to Maribor.
TODAY´S HIGHLIGHTS: Free time in Ljubljana. 

Free time in the morning in LJUBLJANA where we have time to visit the pretty centre of this small capital.

In the afternoon we travel on to the Adriatic Sea and cross the border into Italy.

VENICE, arrival at the end of the afternoon and accommodation in the Mestre district.
TODAY´S HIGHLIGHT: Vaporetto boat on Venice's Grand Canal.
Admire the technique of crafting Murano Glass. In the morning we include a boat transfer to the area of Saint Mark in Venice, a city built on more than 100 islands connected by bridges.

We include a walking tour with a local guide around the city of canals. Afterwards, we shall be able to visit the Murano glass factory city.

It is marvelous to see the technique of crystal blowing. Free time. In the afternoon, some might like to take the chance to have a trip on a gondola.

At the end of the afternoon, you will have the chance to eat dinner in the Mestre area, where you can choose the type of restaurant that you prefer (Indian, Oriental, Italian, etc.).
After breakfast, we transfer you to the airport for your return flight. End of our services
Inclusions
12 Nights accommodation in the given or similar hotel.

Breakfast at the hotel

Travel by bus with English speaking guide

Return airport transfers

City tour in: BUCHAREST, BELGRADE, Sarajevo, DUBROVNIK, SPLIT, Ljubljana, VENICE

Boat: Tour around Bled´s Lake, To the area of St Marks in Venice.

Ticket admission: Bran Fortress, Church of Biertan, Castle of Hunedoara, Tunnel of Hope in Sarajevo, Kravice Waterfalls, Franciscan Monastery and Cathedral in Dubrovnik, Diocletian´s Palace in Split, Plitvice Lakes National Park including boat or train tours in Plitvice, Postojna Caves, Murano glasswork in Venice

Funicular: Cable car ride in DUBROVNIK

8 dinner included in: BUCHAREST, SIGHISOARA, Sarajevo, DUBROVNIK, DUBROVNIK, SPLIT, Opatija, Ljubljana

All transfers, sightseeing, meals according to the mentioned itinerary

Note: Child No Bed is offered to children upto 8 years only and Children above 8 years should take Child with bed cost.
Exclusions
Airfare, visa and Insurance

Optional sightseeing & meals

Meals other than specified in the itinerary.

Porterages, Tips, Laundry, telephone, optional excursions and other items of a personal nature.

Early check-in and Late check out

Cost of foreign exchange for personal use.

Any items or services not specified in the itinerary 'HOLIDAY PRICE INCLUDES' head.